Australian Love Poems
Second Edition
Edited by Mark Tredinnick
Book Information
Categories: Poetry, literature, love, gift
Publication: March 2014
ISBN: 978-0-9875401-1-9
Paperback: 234x153mm
Pages: 160
High Res Cover: Download
Purchase This Book
$24.99, available to purchase online from our distributor.


Mark Tredinnick
Mark Tredinnick is a celebrated poet, nature writer and essayist. He is the winner of the 2011 Montreal Poetry Prize and the 2012 Cardiff Poetry Prize, the author of The Blue Plateau, Fire Diary, Bluewren Cantos and nine other works of poetry and prose. His other honours include two premier's literary awards, the Blake and Newcastle Poetry Prizes.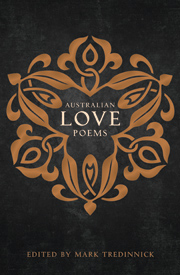 Australian Love Poems is Sold Out
Love—ancient and modern, ecstatic and mundane, sacred and profane—finds its Australian voice between the covers of this book.
This important collection is an ideal companion to Australian Love Stories and displays the richness and variety of contemporary Australian poetry. Here is larrikin love, ironic love and the understated love we inhabit.
Australian Love Poems is a who's who of Australian poets. It containing 200 poems from 173 Australian poets including well known poets Les Murray, Judith Beveridge, Cate Kennedy, Robert Gray, Paul Kelly and exciting new poetic talent.
This is how we do love, how we fall in and out of it, yearn and turn and hurt in it, and how love leads us beyond ourselves. And this is how we write love: in sonnets, of course, pantoums, villanelles, haiku, ghazals, prose poems, free verse and aubades.
The richness of love found in Australian Love Poems claims Australia as a poetic nation and a nation of love.
 Inkerman & Blunt books are available in all bookshops.
Attention Bookshops:
We are distributed by NewSouth Books.
You can view the book on the NewSouth Books website here…
You can order this book from here…
---
Praise for Australian Love Poems
Keen browsers (both poets and non-poets) will find poems that sing their own sorrow or joy in love, poems they wish they wrote or wish were written for them. It will make a good gift — better than say, a box of chocolates — for a love-related occasion. —Trip O'Heare, Culture Mulcher
The result is a harmonious fabric studded with dissonances reminiscent of love's sharp spices.  —William Yeoman, The West Australian
…bad love poems are really scary and I was half afraid to open this book however beautiful the cover. No worry though. It goes down like vanilla almond milk laced with gin. Delicious.   —Grace Cavallieri, Washington Independent Review

Australians do not see themselves as ones for grand romantic gestures, nor do others see them that way. The collection of 200 poems from 173 Australian poets, puts that myth to rest. —Rona Shaffran, ARC Poetry Magazine, Canada.
Every poem in the book expresses sentiments, from the passionate to the objective, the innocent to the experienced, the idealistic to the cynical. …This book was shaped by someone who knows first loves and losses, resolutions and fresh starts.—Philip Harvey, Eureka Street
…all the 200 poems in Australian Love Poems 2013 are exquisite and, like exotic and familiar lovers, each seduces the reader in its own way.—Bronwyn Lovell, Lip Magazine
The book is indeed a beautifully put together volume. The paper, the design, the very fonts and thematically organized flow.—Dave Graney, The Melbourne Review
One thing is clear from this book: if you want to get close to love, analyse it, capture it, only poetry will serve.— Peter Kenneally, Australian Book Review
The love pulses through this book like ships at a wharf, in a continuous cycle of loving and having loved.—Jessica Alice Smith, Readings Books Review
…I stuck tiny yellow plastic post-it notes on the pages where either a poem, or a few lines in a poem, had piqued my interest. I'm pleased to say that once I'd finished reading, my copy of the anthology was resplendent with a dense sulphur crest.—Keri Glastonbury, Cordite Magazine