Wisdom Tree
Nick Earls
Information
Categories: fiction
Publication:
May–September 2016
RRP: each novella $AUD 19.99, ebooks $AUD 9.99
Pages: varying 130-150 pp
Size: 160x120 mm, spine with varying 1-2 cm
Five Novellas
---
The Author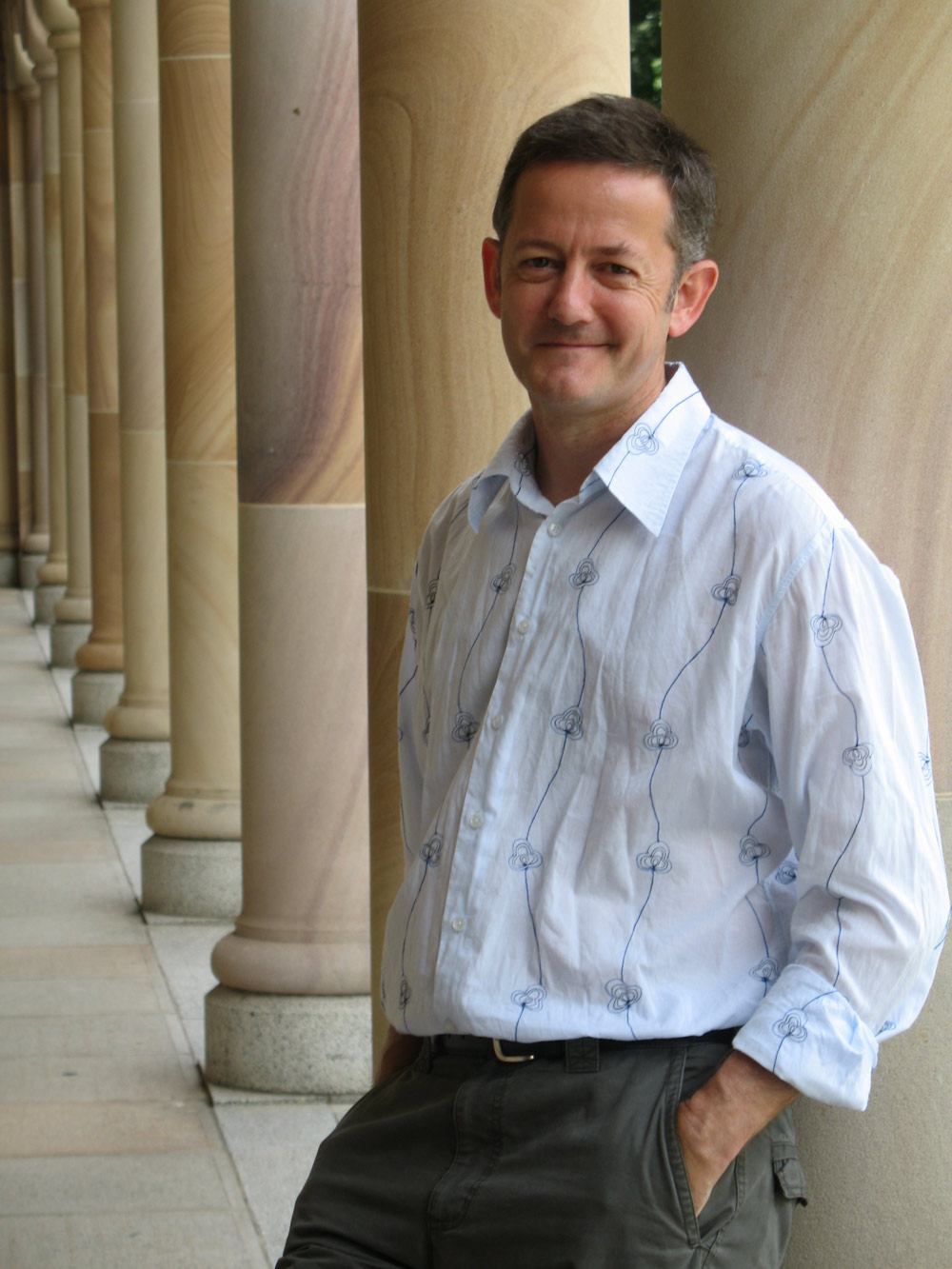 Nick Earls's novels have won awards in the UK and Australia, and appeared on bestseller lists in both those countries and the Amazon Kindle Store. Two have been adapted into feature films and five into stage plays.
Listen to Nick Earls on ABC Radio National.
Five pocket-sized novellas released on the first of each month from May 2016. All individual, all linked in subtle and intriguing ways…
You can't write better than this. It's simply perfect. —Elizabeth Gilbert, Big Magic and Eat, Pray, Love
Every once in a while, you get to read something so sparklingly creative, unique and authentic it makes the hairs stand up on the back of your neck, makes your skin tingle. Wisdom Tree is that.
This floored me. The format is a game changer and the linked novellas combine to create the best book I've read in 12 years, since David Mitchell's Cloud Atlas. Five complex and distinct stories set in New York, Brisbane, Vancouver, Alaska and L.A. that somehow magically meet—I can't quite believe it. Earls has never had his due but if this doesn't get incredible press from here to Timbuktu, then publishing truly is broken. Or maybe he just fixed it, because Wisdom Tree is a transcendent wonder. —Chris Flynn, Tiger in Eden and The Glass Kingdom
The novella is disturbing the literary waters and I&B is stirring the ripples with these five pocket-sized, richly intelligent, perfectly written novellas by internationally renowned Nick Earls who explores what it's like to be a family in a century of unpredictability, celebrity and terrorism. Wisdom Tree reveals how humans relate to each other, what makes a family, what makes us human. Each book satisfies yet deepens the others with links between characters and themes, all the while drawing readers toward a big 'a-ah' in the closing moments of the last novella.
Inkerman & Blunt, a small outfit in Melbourne, is to be congratulated if for nothing else than on the sheer scope of this ­endeavour. It is wonderful to see a publisher anywhere in the world committed to expanding the possibilities of a literary genre.—Simon Caterson, The Australian
Nick will always surprise you. He takes you around corners and down roads you didn't think you were turning down. His voice is our voice, yet somehow, magically, very much his own. He is both us and him. It's an odd gift. So please, enjoy 'our' Nick Earls. He's fun to read out loud by the way.—Rhys Muldoon
What the Booksellers are Saying:
Wisdom Tree is ideal for twenty-first century time poor, screen devoted readers and declares the novella's coming of age, proving it is no longer an in-betweener, but the prescient literary form of our time.
In this day and age, readers have so many choices—but not always when it comes to length. Where are the long short stories that fill out a believable and recognisable world, give you the satisfaction of immersion and time to care about the characters without drowning in extraneous detail? Novellas do just that—satisfy without overwhelming. Congratulations I&B on giving the discerning reader choice—more please!
—Lindy Jones, bookseller, Abbey's Bookshop
By the time I had finished Gotham it didn't matter to me how long these stories were, just that they were well written, fully formed and satisfying. They are beautiful books that can fit in your pocket, meaningful stories enhanced by great design. Novellas are notoriously tricky to sell, but in the Wisdom Tree project by Nick Earls the novella has never seemed more appealing.
—Kym Bagley, bookseller, Dymocks Melbourne
Beautifully written and lovingly produced, Wisdom Tree is constellation of overlapping lives, revealing us—the educated, artistic, and yet largely unremarkable, residents of the 21st century West—in our poignancy. These are stories with soul. The serial novella format is the perfect way to enter Earls' little worlds: each gorgeously designed, standalone volume seems to dignify the lives it contains in a way that collation in a single larger volume may not have. This is sure to be one of the most exciting publishing projects of 2016.
—Gerard Elson, bookseller, Readings Bookstore, St Kilda
Each novella will be available in your favourite bookstore on the first day of the month they are released.
Gotham 1 May: Venice 1 June: Vancouver 1 July: Juneau: 1 August: NoHo: 1 September. 
What the Media is Saying:
I can't wait for the increasingly complex conversations that are going to grow month by month across the ensuing books.—Katherine England, The Advertiser
He is engaging, seemingly a calm, neat, steady sort of a person. There is a kindness in his work, that you can see in him; decency. Read the full interview with Susan Chenery, Sydney Morning Herald
Luckily Earls fell in with new Melbourne-based boutique Australian publisher Inkerman & Blunt, who were prepared to take a chance, having just published Angela Meyer's compact book of micro-fictions Captives. …'When I held that in my hand, I thought this is what I want,' Earls says. Read the full interview with Stephen Russell in NewDaily
Read Nick Earls in conversation with Amanda Ellis, The West Australian
Earls has crafted an engaging and observant series of snapshots that reveals the complications and contradictions of our 21st-century lives.—Carody Culver, Books+Publishing, 1 April 2016
What an intriguing presentation! Reminds me of the old Sat. arvo cliff-hanger serials at our local cinema… we would wait breathlessly to see what happened next! Feeling like that about the next episode!—Ann Creber, Presenter, The Good Life, 3MDR